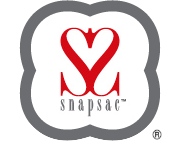 I think I am become a reusable bag addict! I have bags of different sizes, colors, and styles. I decided to stop accumulated more reusable bags, but when I had an opportunity to review SnapSac Totes, I said, "yes" I had to add SnapSac totes to my collection!
SnapSac Totes
are responsibly made by 1 Bag at a Time with a focus on style and sustainability. The new line of SnapSac Totes includes totes of different sizes and fun colors that fold up and snap in different areas so that you can take them anywhere and put just about anything in them.
Features:
• more durable fabric (35% thicker than average grocery bags)
:
110 gsm NWPP
• inside pocket
• foldable with a snap in three places: at folding, at the top, and at the pocket
• machine wash cold, line dry
Rating: total green check marks out of 5.
Promotion Code:
Use
ALLNATRALKATIE20 to save 20% (expires January 26, 2012, cannot be combined with other offers, one code per customer)
| | |
| --- | --- |
| The Good | The Not So Good |
| Holds a lot of stuff | Synthetic fabric |
| Durable NWPP fabric | No base liner/support |
| Adorable color and style | |
| Longer straps to fit over your shoulder | |
| Easy to fold | |
| Great price | |
My Review
:
I received the SnapSac Petite, Super, and Mega Totes in the Pop color. I love the colors and the style. I actually WANT to use these bags because they are so adorable and fun! I took the Petite Tote with me to the grocery store because I planned only buying 2-3 items. I ended up buying 10 items. Nonetheless, all items fit into bag and there was room to spare. I especially love that the straps are long enough to put the bag over my shoulder.
SnapSac Totes fold up in almost the size of a piece of paper (a little bigger for the Mega Tote). I never had any troubles folding up the totes as I do with some of the other reusable bags where you basically have to do origami to get it back into the pocket size bag.
Since the SnapSac Totes are so light, yet durable, I could see myself taking a tote instead of my purse during a long shopping trip.
Uses
:
I used SnapSac Totes on two occasions: grocery store and birthday party. Yes, the Super Tote actually held two big present bags with 3 books each! Instead of carrying each present separately and using two hands, I put them in the SnapSac Super Tote and threw it over my shoulder. My hands were free! SnapSac Totes would also be great to throw in your luggage in case you need an extra bag to carry souvenirs home.
Overall Review:
Although I prefer reusable bags made out of a natural fabric like cotton/jute/canvas, I do admit that
SnapSac's
synthetic fabric makes the bag lightweight, durable, and machine washable. The three sizes are perfect for any type of occasion or purpose. I would like to see the base of the bag supported by either thicker material or an insert so that the bag is even more durable for hauling lots of heavy items.
Disclosure: I received the sample from 1 Bag a Time in order to facilitate my review. No other compensation was received. This product review is based on my personal experiences. This review is objective and completely honest.