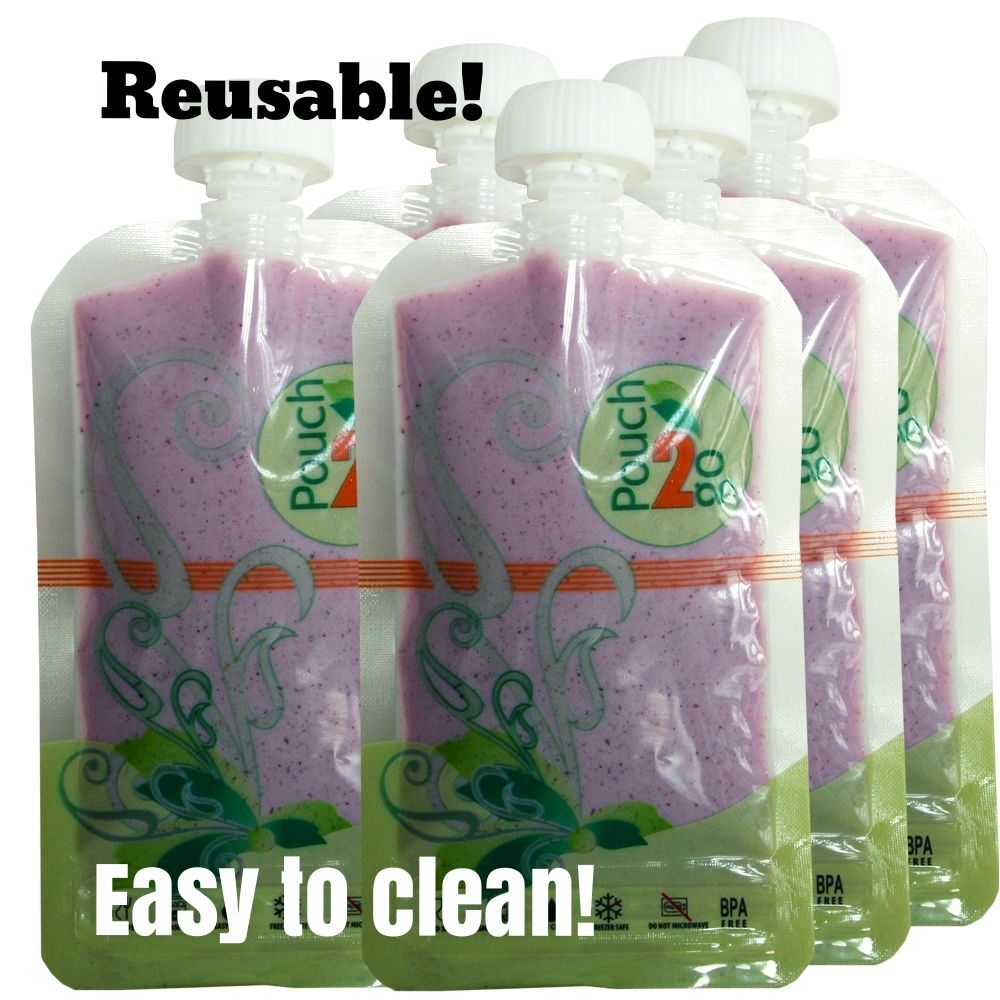 We started our transition to solid foods with the Baby Led Weaning strategy, with a little bit of spoon feeding mixed in. There were some foods, like yogurt, applesauce and soups, which I wanted to offer to my son. While he was still learning the fine motor skills required to pick up food and get it to his mouth, he had not quite mastered the skill of holding a spoon with liquid/puree in it steady enough to get it to his mouth. Then, he got to a certain point where he did not want to be spoon fed. He wanted to be independent and feed himself. Reusable food pouches are a great way to offer foods to your baby and toddler while promoting independence and enabling on-the-go snacks.
Reusable Food Pouches
Rating: total green check marks out of 5.
| | |
| --- | --- |
| The Good | The Not So Good |
| Easy to clean | Made from plastic |
| Convenient for on-the-go snacking | |
| Opening big enough for chunky purees | |
| | |
I held off giving any type of food pouch for a little while. Let's be honest. Those little food pouches are expensive. I did not want my son to get hooked on them and be a slave to purchasing them every week and throwing them away. I know there are ways to reuse the lids, but the single serve pouches produce a lot of waste. I started to see reusable food pouches on the market, but was hesitant. Some were hard to clean, others were hard to use.
When my son decided that he no longer wanted to be spoon fed yogurt, I had to try something new. Though he can get food to his mouth fairly well with a spoon, I wanted him to eat a bit more yogurt than 1/8 cup. Plus, I wanted to offer snacks on-the-go that were contained and convenient.
Pouch2Go pouches are exactly what I was looking for. I cleaned the pouches before use, as recommended. Yogurt was the first food to go into the pouch. As soon as my 19 month old son saw the pouch, he became excited. He took the pouch and started eating the yogurt. Success! He finished the whole pouch of yogurt! Maybe it was a little bit of the novelty of the pouch or maybe he really missed yogurt. Either way, I am pleased that he did so well with the pouch. Our previous experiences involved him turning the pouch over and squeezing everything out.
Each pouch holds 4 oz. This is the perfect size for a toddler or a baby. The reusable food pouch is also a good size for throwing in the diaper bag or your purse to have snacks on hand.
The pouch was easy to clean. The plastic is firm, so the pouch is easy hold open while I get the scrubbing brush inside. The pouch closes like a zip lock bag. The zippers are designed to stay closed. I experienced no issues with leaks. Though, I did store the pouches in a big Ziploc bag just in case.
I try to avoid plastic when possible, so that is one of the negatives of the product. However, for this type of product, plastic is going to be the best material.
Overall, I really liked the pouches. They were easy and quick to fill. I can quickly spoon food into the pouch right before leaving the house. The foods I have tried so far include yogurt and mashed butternut squash that was leftover from dinner. The pouch opening is big enough that even chunkier purees would still fit through.
Pouch2Go Reusable Food Pouches
are good to have on hand for on-the-go snacking and for toddlers who would like to eat independently.
Disclosure: I received one or more of the products mentioned above for free using Tomoson.com. Regardless, I only recommend products or services I use personally and believe will be good for my readers. All opinions are my own.